MediaSense is a new social media conference put on by Hal Josephson, a Hawke's Bay entrepreneur, impresario and top bloke.
For me, this was a fantastic chance to meet folk I don't normally meet, with people from all around the country attending. The Bay was well represented and I was most impressed with the locals' friendliness and enthusiasm. These guys have secured interesting and challenging jobs or taken the plunge and started their own businesses in an area notorious for a vibrant food and drink scene. It had me scratching my chin several times about life outside Auckland. Hmmm. Needless to say, we were well looked after eating and drinking-wise, enjoying the hospitality of the Craggy Range and Black Barn vineyards, who hosted the event itself.
I was there as the corporate perspective in the local case studies section, along with  Tim and Matt from Uprise, Jayson Bryant, Tom from Catalyst 90 and Kayla from Mini Monos.
My case study was crisis communication. I told our earthquake story, which has some solid examples of the power of using social networks, and is a neat way to outline our approach in general. I think I got points for being honest(!), and I was pleased to get some  thoughtful anecdotal and online feedback.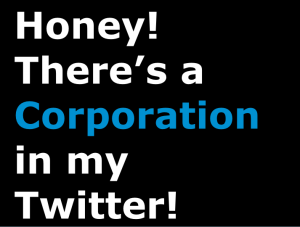 I throughly enjoyed the afternoon panel hosted by Nat Torkington and featuring Xero's Rod Dury, Matthew Miller from Mogul websites and Paul Brislen from TUANZ – local examples almost always give me more takeaways than any other section of an event like this. I was hugely impressed with Matt from Mogul's common sense approach to social – it's easy to overthink this stuff. Like Telecom, Xero is a heavy Yammer user, interestingly. I enjoyed Paul's war stories from his the early days of doing this at Voda – can relate!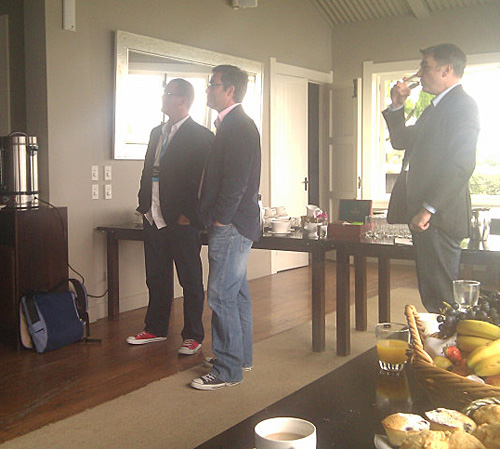 A nervous glass of water before speaking, while wishing I'd chosen more irreverent footwear like Jayson and Paul. Photo credit: @gnat.
It was observed that Twitter was roughly 70% of the conversation, but someone did point out you need to look at it in context with all social channels available to achieve your goals, especially the lesser known ones like TradeMe forums, even databases and email! Karen Leland gave her two hot tips for PR in social media as 1. pick up the phone, and 2. go to lunch. I liked that.
Full credit, as they say, to Hal and Odette for putting on a thoroughly valuable and enjoyable event, with some fantastic hospitality and conversations the night before, during and in the bar afterwards – I hope to be involved in some capacity next year. Recommended.
PS I need to mention Tweet2Eat – if you're in the Bay, you MUST follow for all your food and drink recommendation requirements.