So I was on the telly, along with Simone McCallum and Rick Shera talking about this ruling in Australia where by companies are responsible for everything that appears on their Facebook or social media pages.
My (expanded) view is that social media should be literally social – a two way conversation between companies, their customers and their online communities. Of course we keep a close eye on what's on our page – like Rick says in the clip, you can't just set up a Facebook page then forget it. We also make no apology for removing posts that are non-family friendly – much offensiveness is automatically headed off at the pass by our profanity filter (great to finally make use of my specialist profanity knowledge in a professional situation).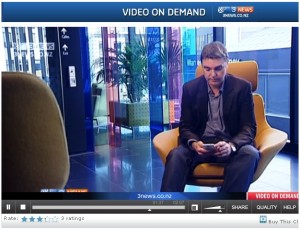 Getting a quick game of Angry Birds in.
I'd personally be disappointed if a similar ruling here meant a moderation step before people could post on one of our pages. If we set our slate out and ask customers to let us know what they think, folk should be able to say what they like, within reason. A moderation step would make the whole exercise less, well, social.
As for the process of being filmed for the telly and that, it was fun if slightly nerve wracking. And weird to see yourself on the box, but I imagine once you reach full Brislen level, you'd be used to it! The kids loved it. My greatest concern was that one of my mates, seeing the 'I get an email to my phone when there's a Facebook comment' comment would post mass hilarity on the page. Hasn't happened. Yet. My phone went nuts on the night with relatives txting and kind people tweeting – thanks to everyone who tweeted, you are too kind.